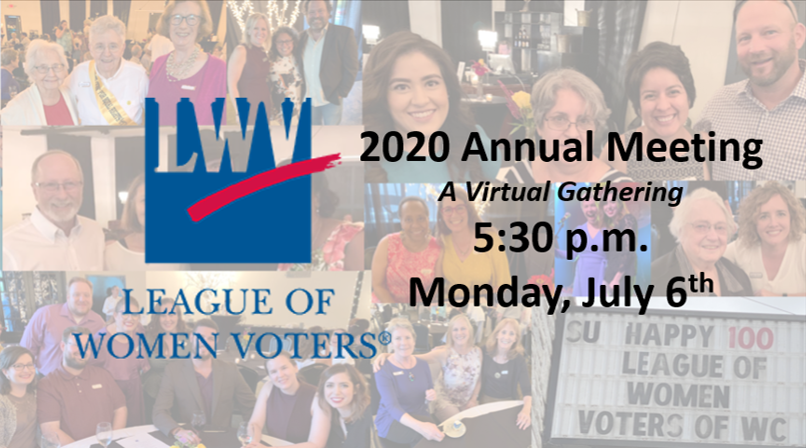 It's time for the League's Annual Meeting, but we obviously can't gather as a large group in person right now. For that reason, we're moving online to make important decisions including electing a Board of Directors, deciding our Program of Action for the coming year, and considering our annual budget.
We'll also hear from Dr. Janine Parry, University of Arkansas political science professor, on an critical issue to the League: voter access. Dr. Parry's presentation is entitled, "Vote By Mail: What We Know."
This meeting will begin at 5:30 p.m. on Monday, July 6th. Participants can take part via Zoom link or by calling in. Please let us know at info@lwvarwc.org if you'd like information on how to participate and didn't receive the Zoom information in a League email. For security reasons, we can't include the link on this event page.
5:30 p.m. -- Welcome: Bonnie Miller, Board President
Speaker: Dr. Janine Parry, "Vote By Mail: What We Know"
6 p.m - 7 p.m. -- Annual meeting
Call to Order: Bonnie Miller
Approve Minutes of the 2019 Annual Meeting
President's Report: Bonnie Miller
Treasurer's Report: Laura Winburn (See proposed 2020-21 budget at link below.)
Proposed Program of Action: Laura Kellams (See proposed program of action at link below.)
Nominating Committee Report: Sarah B. Thompson (See nominations slate at link below.)
Other Business
The meeting is open to the community, but only League members my vote on the Program of Action, Board nominations and the proposed budget.
For more information on the meeting or questions about how to participate, email info@lwvarwc.org.