Census 2020 in Northwest Arkansas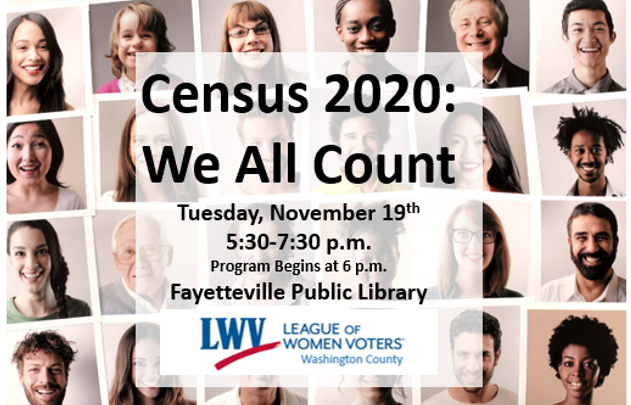 A complete Census is critical to Washington County, to Northwest Arkansas, to our state and our nation. The Census helps determine our political representation as well as the federal dollars our communities receive for important programs from health care to schools, roads and bridges.
Join us for an informative forum on Tuesday, November 19th to discuss the Census and what local organizations are doing to ensure we have a complete count in Northwest Arkansas. We'll hear from Mireya Reith, executive director of Arkansas United; Melisa Laelan, executive director of Arkansas Coalition of Marshallese; and Kathryn Birkhead, chairwoman of the Springdale Complete Count Committee. Laura Kellams, a member of the Arkansas Counts Complete Count Committee and a League of Women Voters board member, will facilitate the discussion and take questions from community members who want to learn more.
All are welcome.
5:30-7:30 p..m.
Tuesday, November 19th
Fayetteville Public Library's Walker Community Room