Commemoration of the 100th Anniversary of Arkansas's Ratification of the 19th Amendment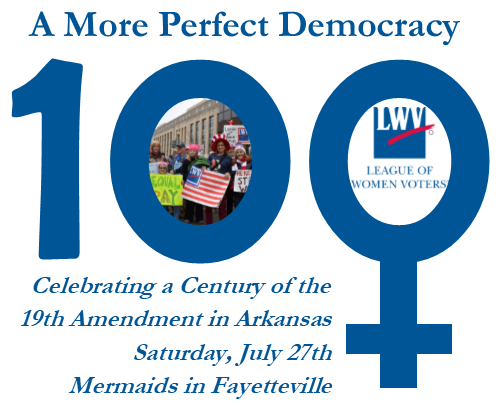 Did you know Arkansas was the 12th state to ratify the 19th Amendment? Please join the League of Women Voters of Washington County as we proudly mark the 100th Anniversary of that milestone this summer. We'll celebrate our past, present and future at "A More Perfect Democracy," a fundraiser and party at 6 p.m., Saturday, July 27th, at Mermaids in Fayetteville.
Seats at this event will be limited, so make plans now! Buy tickets or make a donation by clicking on the red "Register for 100th" button at the top right of this event info. Tickets are $50 each and include heavy appetizers, beer and wine.
Or show your support for the League and its mission by becoming a sponsor! A League Sponsorship is $200 and includes includes two tickets. Your name will appear as a sponsor on our program, on screen at the event and in emails and promotions. A Century Sponsorship is $500, and it includes four tickets as well as reserved seating. Your name or logo will appear in programs, on your table, on screen at the event and in emails and promotions.
Unable to attend but want to support our work? You can make a donation in the amount of your choice instead of buying a ticket. (Please note: Tickets and donations to the League are not tax-deductible.)
Help our local League enter the next century going strong! We recognize that not all women were included in the suffrage movement and that we did not create a "Perfect Democracy" 100 years ago. We have a long way to go; help us get there!
Prefer to pay by check? Contact Laura Kellams (info below) to make reservations or to ask about sponsorships.
BIG THANKS to our sponsors!
Century Sponsorships:
Lynn and Joel Carver
Patsy and Dan Ferritor
Linnette Garber
Rep. Denise and Hershey Garner
Jane Scroggs
Mary Alice and Philip Serafini
League Sponsorships:
Brenda and Ray Boudreaux
Christine Harness Hartman
Laura Kellams
Jesse and Roger Koeppe
Priscilla Kumpe
Bettie Lu Lancaster
Austin Lucas, Attorney at Law
Glenda Patterson
Ana Phakhin
Tim Snively and Cristi Beaumont
Barbara G. Taylor
Sarah Brewer Thompson
Michelle and Jeff Wolchok